---
About us
---
We are a family of four living in Volda in northwestern Norway, not far from Ålesund.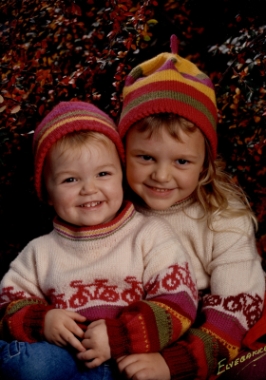 Both Linn and Arnfinn grew up with family dogs so when we got together and started our own family we had to have our own dog. First we had a mixed breed relocated male with alot of issues, but after that we got a nice and calm Golden Retriever. Mira is still living with us and is the favourite dog of our daughters.
Linn got dragged of to a dog show by her sister and the ball started rolling. With Linn at home caring for a baby, Randi, she had time for a puppy as well, so Akila, our first Bernese moved in. More dog shows and more success led us to consider breeding. Akila had her first litter when Anna was 4 weeks old. Perfect timing :)
After a while we got Bella and later Lotte. With Bella and Lotte, and our own breed Asterix, the dogshows became more successful. Lotte sadly had to be put down at 15 months because of her hip pains. We also have Constanze, of our own breed, in collaboration with friends of ours.
Our dogs is all living with us and moves freely inside the house and in our yard. We take our dogs for walk in the forest and bicycling. Linn is an active member of the local dog club and the dogs often go to obedience training, and sometimes gets to try som agilty for fun. But most of all the dogs are just family dogs.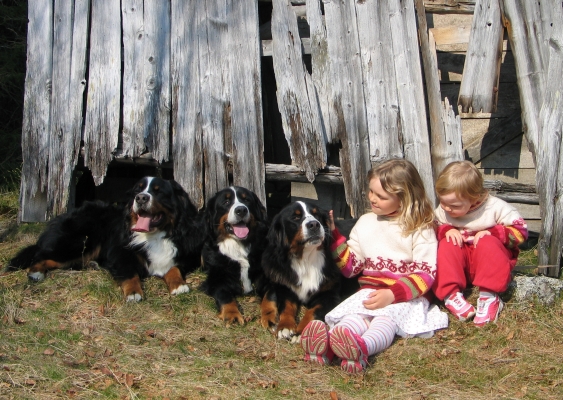 ---
Breeding
---

We have a small scale breed as we have not had many bitches to use. Akila has retired with grace and we now only have Bella and Constanze.
When we have litters the puppies live in our livingroom/kitchen, and is taken on independent trips and discoverys around the house, in the neighbourhood, and by car. We try to do our best to give the puppies a good start and make them aquainted to ordinary household activities. The puppies get to experience other nice dogs as well and not just our own. They get to explore our large garden and get to spend as much time outside as the weather allowes.
The puppies also is exposed to our kids and their friends and gets positive experiences.

All puppies is delivered freshly bathed and blow-dried as this also is a important experience. The puppies are vaccined, ID-tagged and registered in the Norwegian Kennel Klub registry. All puppies is deliverd with their own individual veterinary certificate and a small booklet and/or CD-rom with pictures.
Our goal for our breeding is to produce healthy and nice family dogs and good representatives for their breed.
---
About our homepage
---
This web page with all material it is containing, pictures, text, graphics and all other content is the property of Kennel Melkebart. Any use of the material without our permission is prohibited according to copyright laws. All pictures are our own, or our friends or familys property.
Bottom line: Ask for permission!